Achievements of St. Michael's English School
Vikas Kolhekar, Head Master of Saint Michael's School had been awarded with "Rajiv Gandhi Excellence Award".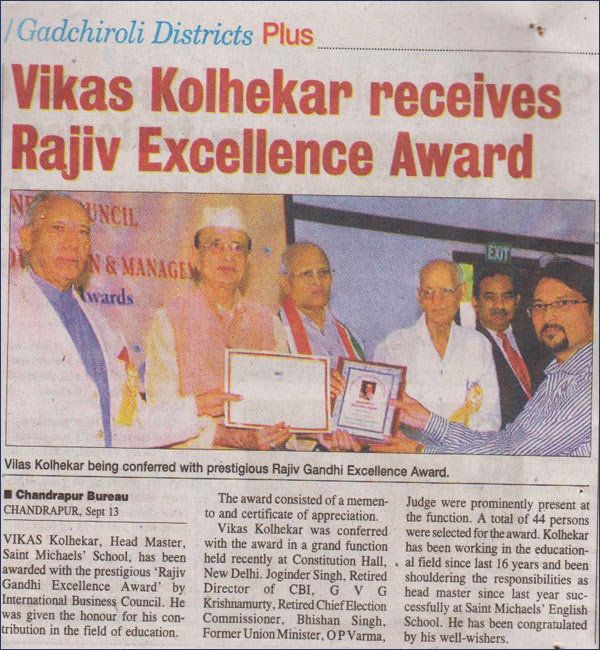 Sports Achievements

In 2012 , all our students who appeared for SSC exam has passed with good percentage i.e we have 100% SSC board result State Board as well as CBSE.
In state Board about 146 students appeared all passed with good percentage. In CBSE Board about 35 students appeared all passed with flying colors.
The school has excellent reputation in the field and tradition to bring laurel always to the school. This is the field where school grabbed much more prizez at district, division, national and international level.
Following are the achievement in the field of sports.
Ku. Sonam Khan (Std IX) has participated at National Football Tournament (under 19) at Kolhapur (under in the Std. X) session 2003-2004.
List of the National & International Players.
| | | | | | |
| --- | --- | --- | --- | --- | --- |
| Sr.No. | Year | Name of Student | Level | Game | Place |
| 1 | 2003 | Ku. Sonam Y. Khan | 49th National | Football | Kolhapur |
| 2 | 2003 | Ma. Ashique Maqsood | 49th National | Football | Kolhapur |
| 3 | 2003 | Ma. Sushil Lohakare | 49th National | Football | Kolhapur |
| 4 | 2003 | Ku. Pallavi Todase | 27th National [Sr. Girls] | Football | Madras |
| 5 | 2004 | Ku. Pradnya Gawande | National | Aaatya-Patya | Nagpur |
| 6 | 2004 | Ma. Ashique Maqsood | 50th National | Football | Jammu/Kashmir |
| 7 | 2004 | Ma. Sushil Lohakare | 50th National | Football | Jammu/Kashmir |
| 8 | 2004 | Ku. Pallavi Todse | National | Cricket | Chandrapur |
| 9 | 2004 | Ma. Ashique Maqsood | 7-A-Side-National | Football | Nagpur |
| 10 | 2004 | Ma. Sushil Lohakare | 7-A-Side-National | Football | Nagpur |
| 11 | 2005 | Ma. Rahul Jambhulkar | 51st National | Football | Rai/Hariyana |
| 12 | 2005 | Ma. Saurabh Gowardhan | 51st National | Football | Rai/Hariyana |
| 13 | 2005 | Ma. Akshay Kotey | 7-A-Side-National | Football | Dhaka [Bangladesh] |
| 14 | 2006 | Ma. Tausif T. Khan | 52nd National | Football | Andaman/Nicobar |
| 15 | 2006 | Ma. Shaharukh H. Khan | 53rd National | Football | Kolkatta |
| 16 | 2006 | Ma. Rizwan M. Farooqui | 53rd National | Football | Kolkatta |
| 17 | 2006 | Ma. Santosh D. Jethwani | 53rd National | Football | Kolkatta |
| 18 | 2006 | Ma. Tausif T. Khan | 53rd National | Football | Kolkatta |
| | | | | | |
| | | | | | |